Hey, beauties! In today's Feature, FRIYAY  get to know my amazing and inspiring friend Shannon. She is sharing a workout and one of her favorite recipes with us. She is just such an inspiration to me as a mama, friend, and boss babe!!!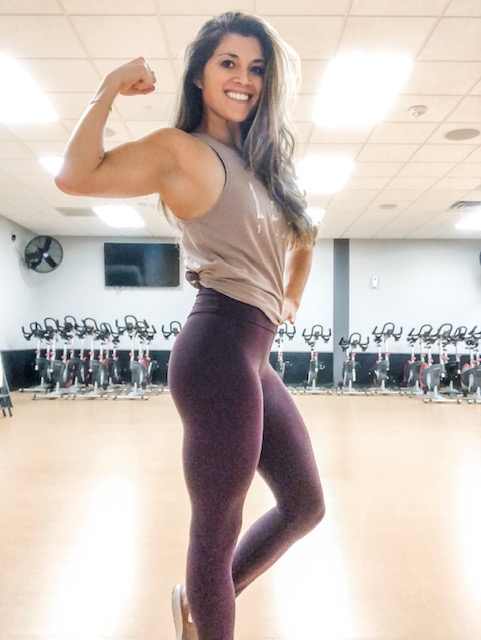 Who inspires me– "I feel lucky that I have such an amazing husband. He is the most kind, giving, and hard working person I know. He inspires me to be a better parent and overall person with constant encouragement and lifting me up" 
Nickname– Shay, Shan
Favorite fall fashion– I live for oversized sweaters and leggings- I'm all about comfort especially being a Mom of two and having food and milk spilt on me on the daily!
Favorite beauty must have– I used to work for Johnson and Johnson and they have an exclusive skin care line that only employees can purchase. I stock piled before I left my job there haha! I love their face wash and creams
Passionate about–  I'm super competitive so with that comes wanting to be the best and excelling in my career so I can give my husband and kiddos the best life possible. It's not all about money but if I can wake up every day and know I'm doing the best for my family that's what is most important. I'm also very passionate about staying in good shape! Not just now, but in all the stages of my life. I want to be a grandma that gets down on the ground and plays with my grandkids and not feel like I can't keep up with them 🙂
Favorite quote– "Everything happens for a reason" Some things you can't explain and this saying has gotten me through some very hard times and continues to be my strength when I'm faced with challenges or adversity. 
Hobbies- Well, as a Mom my hobbies are my kids hobbies 😉 I love the outdoors so hiking, walking, or running is definitely a must. I enjoy nights with my girlfriends- they are everything to me! Going out to dinner with my husband and sharing a good bottle of wine with him. 
If I was a drink-
If I was a drink I would be Spark! It's an energy drink that I have EVERY morning. It's my saving grace on long sleepless nights and hypes me up before a workout. 
Hype up jam– I'm obsessed with anything Ed Sheeran creates. So any of his songs, but Shape of You is a favorite and that music video makes me feel really empowered.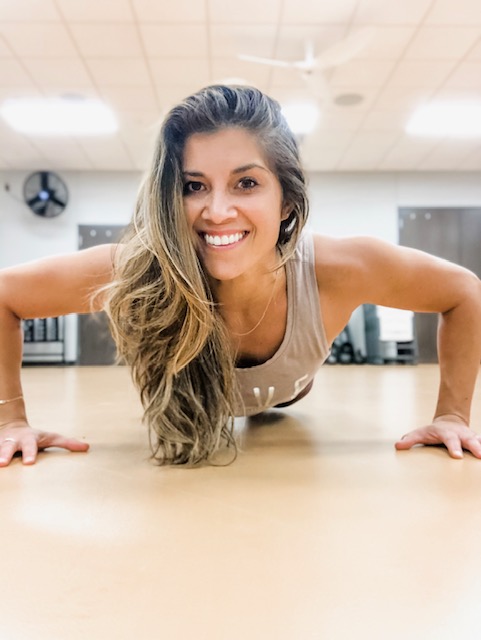 Favorite Workout– I've recently been enjoying workouts on the SWEAT app! I'm following a program designed by Kelsey Wells called PWR. Over the last couple of months I've been really focused on more strength training and trying to build lean muscle. I love cardio but I felt like I needed some guidance when it came to increasing my muscle mass. The program has been great so far and makes things so easy. Every day I get to the gym and I know exactly what I'm doing, no guessing game here! I'll keep ya'll updated on my results. 
Since I do strength training 3 days of the week the other 3 days I make up my own work outs! I love a good sweat and I feel the most satisfied when I can work both lower and upper body and get my heart racing! He's an example of one of my workouts:
1/2 mile warm up jog
4 ROUNDS-
20 squat jumps
12 push ups (feet elevated on bench or chair) 
40 bicycles
100 yard dash/sidewalk sprint- there and back
4 ROUNDS- 
10 side lunge (20 total- 10 each side)
12 tricep push ups 
10 opposite arm to opposite leg sit up (20 total- 10 each side) 
100 yard dash/sidewalk sprint- there and back  
4 ROUNDS-
10 single leg jump with same leg lunge backwards (20 total- 10 each side)
12 spider push up (bring knee to elbow on down motion)
20 snowangels (like it sounds! make an X arms out and legs out and bring back in)
100 yard dash/sidewalk sprint- there and back    
FINISH IT WITH 20 BURPEES! Get your sweat on friends!
FALL FAVORITES:
hayride
bonfires
pumpkin patch
Thanksgiving
Hocus Pocus
Hot Chocolate
Making pumpkin pie
Corn maze
Favorite Recipe- Crispy Kale 
1 tbsp of olive oil
1tsp of sesame oil
3 cloves of garlic
3 cups of kale
1 1/2 tsp of soy sauce
chili flakes- to taste
Optional- add a fried egg and cup of brown rice
Instructions:
heat a skillet to medium heat, add olive oil and sesame oil. Once oil is warmed add kale. Stirring frequently. Add garlic and soy sauce. Let kale cook down- total cook time is 5-6 mins. Serve as a side to any meal! Or top it with a fried egg over a heap of brown rice.